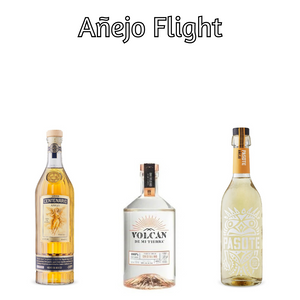 Repo Bodega by Reposado
Añejo Tequila Flight
Regular price
$47.00
$0.00
Unit price
per
Anejo (Old/Aged): Tequila that has been aged in wood barrels 200 litres (or larger) for a minimum of one (1) year

#1. 1 oz Gran Centenario: Established in 1857 in the highlands of Jalisco, Gran Centenario añejo is fermented in stainless steel tanks, twice distilled in column stills, and aged in new American white oak for a minimum of 16 months. Rich and nutty like spiced pecans on a chocolate pie.  
#2. 1 oz Volcan Añejo Cristalino: A unique añejo expression that's relatively new to the tequila scene is the cristalino. Although not yet officially recognized, the category is proved to be quite popular among younger tequila drinkers in Mexico. The tequila is first aged in ex-bourbon, cognac, and French oak casks, then filtered through charcoal leaving the final liquid to be 'crystal'—well, relatively—clear; hence its name. Roasted in brick ovens and extracted using both tahona and roller mill. The juice is fermented in stainless steel with champagne yeast, then twice distilled in copper pots before ageing. Pleasantly fruity and floral with whiffs of vanilla and lightly cured pipe tobacco linger in the background.  
#3. 1 oz Pasote Añejo: A well-known staff favourite here at Reposado, Pasote does right by their product with brick oven roasting, 100% tahona extraction, fermented with the fibers, and twice distilled in copper pots before ageing for one year in ex-bourbon casks. A simple expression of truly wonderful agave spirit. Earthy roasted agave notes dominate with a hint of vanilla from ageing. Not to be missed! 
1 oz House-made Sangrita: 
1 Chocolate
---