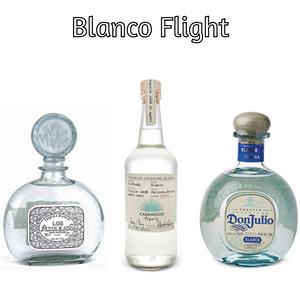 Repo Bodega by Reposado
Blanco Tequila Flight
Regular price
$35.00
$0.00
Unit price
per
#1. 1 oz Los Azulejos Blanco: A medium bodied tequila from the lowlands of Jalisco with notes of bright citrus, earth, and fresh herbs—flavours indicative of its terroir.
#2. 1 oz Casamigos Blanco: A popular tequila among consumers, as it is indeed approachable for those just getting into agave spirits. It is full-bodied; rich in both texture and sweetness. Little roasted agave flavour with herbed butter and a short finish reminiscent of cake batter. 
#3. 1 oz Don Julio Blanco: Produced in the Los Altos region (highlands) of Jalisco, this delightful expression is filled with juicy lime and grapefruit with a touch of grass and pepper on the finish. 
1 oz House-made Sangrita 
1 Chocolate
---