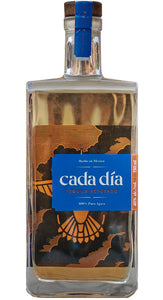 Repo Bodega by Reposado Bar
Cada Dia Reposado Tequila
Regular price
$95.00
$0.00
Unit price
per
We are Local.
An artisanal Mexican tequila born out of Canadian Influence. We honour tradition and embrace Mexican culture to bring an unmistakably authentic experience.
True taste, clean and finely crafted, we are the new benchmark for excellency.
The Story Behind the Brand
Driven by love and passion, Sandeep and Riti Gupta co-founded cada día to embody the joy of living life to the fullest and embracing the good in each and every day. Their journey began as a young married couple with the understanding that purpose and balance in life meant everything. By profession, Sandeep is an Engineer and Riti is an IT Project Manager. Through two beautiful daughters and the challenges that daily life presents, Sandeep and Riti continue to radiate optimism and stay true to their values.
The vibrant colours of Mexico, the fiery and flavourful foods, and the artfully crafted tequila have long been a source of inspiration for the two. They honour tradition and embrace Mexican culture to bring an unmistakably authentic experience to the world. The joy of living and making the most out of every day is what has made passionate dreams into reality. They invite you to embark on your journey. Sip. Savour. Celebrate.
The Brand Behind the Bottle
cada día was designed to honour certain traditional authentic Mexican elements, while counterbalanced with a modern and sophisticated approach. Each element is timeless and perfectly tailored for the brand today and hereafter.
In Mexican culture the hummingbird has been known for evoking emotions of joy and inspiring a sense of fearlessness to the observer. It was purposefully incorporated into the brand to embrace the cherished Mexican bird, and to impart some of its radiant emotional attributes into cada día. Our rendition of the symbol is designed to be powerful and masculine while preserving its elegance and sophistication.
The Bottle Behind the Tequila
cada día makes you stop and revel in life's greatness.
The label was designed to engage consumers and create a legendary experience from start to finish. We draw the curious consumer in with intricate details and inspire them to pick up the bottle, twist, turn, and explore the craftsmanship and true taste of cada día.
NOM: 1137
Location: Tequila, Jalisco
Maestro Tequilero:
Luis Trejo - 32 years of experience. With a long history in tequila, Luis' father and grand father worked in the industry.
The Agave
Territory: Lowlands – Tequila Valley Altitude: 1,200m
Species: Blue Weber
Age: Approximately 8 Years
The Taste
Cooked agave, caramel, oak, citrus
instagram.com/cadadiatequila facebook.com/cadadiatequila info@cadadia.ca
cadadia.ca
Small Batch
Tequila Reposado 3000 bottles
The Production
Cooking: Slow cooked in stone ovens for 40 hours and cooled for 8
Crushing: Screw mill
Yeast: Natural yeast derived from the agave Fermentation: Open air stainless steel tanks Distillation: Distilled twice in a stainless steel still with copper coil. Only the 'heart' is used.
Water Used: Demineralized volcanic
Barrels: Second use, charred, American Oak Whiskey Aging: 8 months
Alcohol: 40%
The Distillery: La Cofradia
---