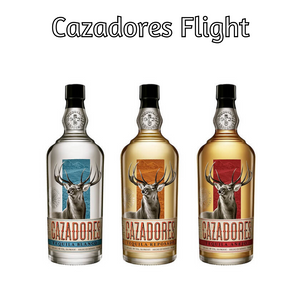 Repo Bodega by Reposado
Cazadores Tequila Flight
Regular price
$32.00
$0.00
Unit price
per
Tequila Cazadores (the hunters) was founded in 1922 by Don Jose Maria Bañuelos in the Los altos of Jalisco, and launched commercially in 1973. Although the technology used to create Cazadores has changed since 1922, much has been improved upon, touting their sustainably built, zero-waste distillery. 

#1. 1 oz Cazadores Blanco: Green apples and fresh herbs dominate here, while white grapefruit, lime zest, and a pinch of cracked pepper linger on the finish. 
#2. 1 oz Cazadores Reposado: Pears stewed in vanilla, with a touch of oak and smoke creep into the foreground. 
#3. 1 oz Cazadores Añejo: The citrus has now transformed into candied orange zest, toasted canella, and pipe tobacco.
1 oz House-made Sangrita
1 Chocolate 
---