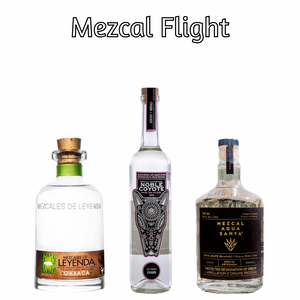 Repo Bodega by Reposado
Mezcal Flight
Regular price
$47.00
$0.00
Unit price
per
Mezcal—from the Nahuatl word 'mexcalli' meaning oven-cooked—simply refers to the umbrella term given to agave spirits. But what makes Mezcal so different from Tequila, is it's unique artisan production. Roasted in earthen pits (giving the final product its unique smokiness), milled by tahona or by hand, and distilled in copper or clay pots. Mezcal can be made using a number of different maguey—single varietal or multiple (ensemble) and can be consumed as is (joven), aged in glass jars, or in wooden barrels like Reposado and Añejo tequilas. 

#1. 1 oz Leyenda Tlacuache: Fresh herbs, citrus, and lemongrass—medium smoke. 
#2. 1 oz Noble Coyote Espadin: Bright green peppery notes accompanied by toasted fennel seed and a subtle smokiness. Hand milled and twice distilled in copper pots. 
#3. 1 oz Agua Santa Madra Cuiche: Mineral driven expression with fresh garden mint and white flowers with a mild smokiness. Tahona milled, wild fermented, twice distilled in copper pots. 
1 oz House-made Sangrita:
1 Chocolate
---