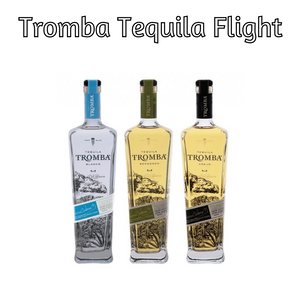 Repo Bodega by Reposado
Tromba Tequila Flight
Regular price
$37.00
$0.00
Unit price
per
Tequila Tromba (whirlwind, or big rain—a name given to the intense rainstorms that nourish the agaves) founded in 2005 by local Eric Brass looking to fill a gap in the market by creating a quality tequila at a reasonable price point. Today, Tromba is produced at the Tequila el Viejito distillery in Tototlan, Jalisco. Tromba is fermented in stainless steel tanks and distilled twice in copper pot stills. Aged variations use American white oak, first  fill bourbon, and used whisky barrels. 

#1. 1 oz Tromba Blanco: Intensely vegetal with notes of fresh mint, eucalyptus, and white pepper. Finish is pleasantly earthy, wit's a spritzing of aromatic grapefruit zest. 
#2. 1 oz Tromba Reposado: Vegetal notes are tamed here to a more unripe banana and pineapple husk with wisps of caramel and vanilla on the nose. 
#3. 1 oz Tromba Añejo: Earthiness and tropical fruits persist, complimented by dry roasted nuts and baking spices. 
1 oz House-made Sangrita
1 Chocolate
---